Pricing

Town Referral Program
Town Referral Program
Would you like to earn FREE hosting for your town website?
We're confident your positive experience with #TeamJB will be one you'll surely want to share.
Every town that builds a website with JB Systems has the opportunity to earn FREE WEBSITE HOSTING with us!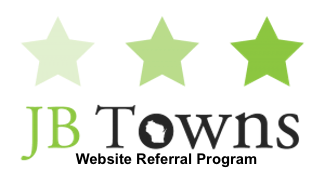 HOW DOES IT WORK?
When a new town signs a website contract with JB Systems and identifies another town as a referral, BOTH towns get one month of FREE hosting! Towns have an opportunity to earn a FREE month of HOSTING for EACH TOWN THEY REFER that signs a contract.
IT GETS EVEN BETTER!
Do you think you can refer six towns? If so, on your sixth referral (with signed contract), we will DOUBLE it for a total ONE YEAR OF FREE HOSTING for your town!
*Free hosting is not redeemable for cash. Free hosting is limited to 12 months during length of signed contract with JB Systems for referring towns. Additional terms may apply.